The Tubing Debate
I notice on forums that Peugeot HLE bikes get some interesting reviews and opinions. You find that some come from the perspective that if a bikes tubes aren't built with Reynolds, Columbus or similar double-butted frames, then its not that respectable or impressive. I think this is the wrong approach to vintage bikes, and at the end of the day, the differences in weight between these older steel bike frames is quite minimal. The HLE was just 0.7 lbs lighter than a basic Peugeot steel frame, and was probably about the same amount heavier than a Reynolds 531. The difference on the road? Not much, in real terms, but you'd definitely get more kudos turning up at the cafe with your PX10 than your HLE.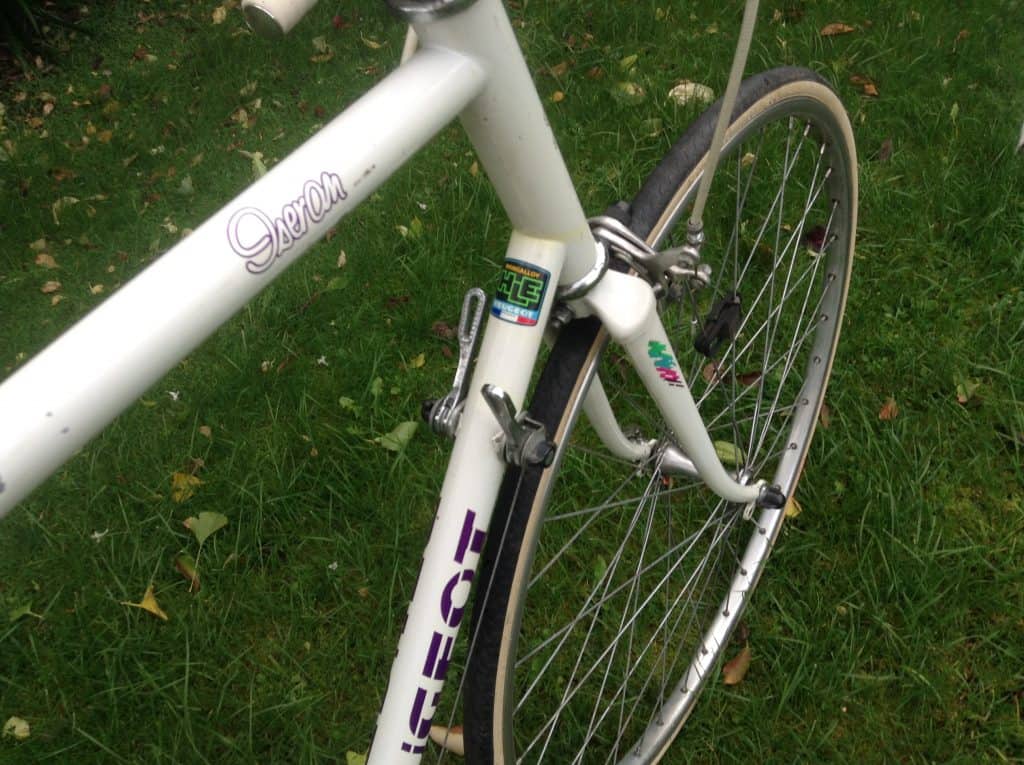 Peugeot's HLE Steel
HLE stands for "Haute Limite Elastique", which translates as "high limit of elasticity". It was composed of manganese, nobelium, aluminum, carbon and titanium, creating a "micro-alloyed steel". The frame was internally brazed which was a technique that Peugeot patented, and most of Peugeot HLE bikes were low middle to mid-range in their 1980's catalogues. The Iseran, Versailles, Touraine, Premier, Aubisque and other models came with decent components, often supplied by the most established brands such as Weinmann, Maillard, Sachs- Huret and Atax. These were well made bikes that would make a durable and reliable companion for many at a time when steel bikes were still winning the Tour De France. Peugeot only made the Iseran for two or three years, and often in blue, so in this colour white it is definitely a rarer bike.
Unmistakably Eighties
Peugeot's proprietary mangalloy steel must have been cheaper to produce than any of the Reynolds tubing of the era. Competition was stiffening for the French firm, and soon aluminium and carbon frames would come to dominate the market. I suppose the HLE marks a period of decline for the French brands that had been so successful in the previous decade, both in Europe and across the world. Yet Peugeot was still making good quality bikes, and though they are not as cherished as the earlier models of the time of Tommy Simpson and Eddie Merckx, there was nothing more personally desirable to me when I was growing up than one day owning Robert Millar's 1985 Peugeot ( made of carbon fibre! ). This Iseran, nevertheless, has a real look of the eighties about it, as eighties as Miami Vice. That splash of paint on the top tube, seat tube and forks just says it all.
The Iseran
Peugeot liked to name bikes after mountains in the Tour De France, and the Iseran, like the Galibier and Ventoux, was a nod to Peugeot's racing heritage in the Tour. This Iseran would have been an affordable mid-range bike in the late 1980's, and although there are no stand out components, all its parts are of decent quality, from its Rigida rims to its Sachs derailleurs. Its frame had braze-on mounting and eyelets for mudguards, the brake housing ran inside the top tube which would have been cool, and the bike had that white trim ( saddle, bar tape, toe straps and brake hoods ) that was distinctively Peugeot-esque. So it had a bit of flair, that Gallic panache, yet is was a practical and functional machine underneath. Worthy of a hundred quid today, in my book.
Peugeot Models of the 1980's
If you do buy a Peugeot bike from this period, you can be hard pressed to find its exact year and model. Peugeot serial numbers are notoriously indecipherable, and the catalogues of the period are witness to the constant changes and muddling of models from year to year. Some years the Iseran seems to exist, others it disappears; different countries also had different catalogues, so whether this French version of the Iseran in this blog was ever exported to the United States, is questionable. The best way to identify Peugeots is by their paintwork, and in this case, 1989 seems the most likely year, the year of the splashy paint design.
Specs
1989 Peugeot Iseran
HLE Tubing, Internal Brazing, Stamped Dropouts, Braze-On Mounting
59cm Frame Size, 58cm Top Tube Centre to Centre
12 Speed, 14-26 Freewheel
Sachs Huret Eco Derailleurs
Rigida 700c Clincher Rims
Maillard Hubs 
Hutchinson 700 x 23 Tyres
Unspecified Crankset, Solida? 42/52
Weinmann Alpha Calipers
CLB Brake Levers ( Hoods Missing )
Lyotard 36R Pedals ( Originally )
Royal Biofoam Saddle
Atax Stem, Unspecified Bars
Weight 25lbs